THE ART OF BEING LOCAL
IN SOUTH ASIA
Company formation in India
India is one of the fastest growing emerging economies and a major player in the global economy. In terms of land area, India is the seventh largest country on earth. However, India is the second most populous country in the world and will soon overtake China as number one in terms of population. The government has implemented important reforms in recent years to improve the business climate in the country and attract foreign investors. As a result, India has become an attractive destination for start-ups.
If you want to set up a company in India, there are many factors to consider. InterGest South Asia tells you the steps required to professionally prepare and implement the establishment of a company or branch in India. The team around Managing Director Vinayak Hajare knows the legal, financial and cultural aspects that need to be considered when setting up and operating a business in India. You will receive individual and competent advice.
Vinayak Hajare is Director of InterGest South Asia since 2007. He has graduated in Science and MBA specialised in Finance. Working for over 27 years, there of he has 18 years experience as an investment banker, he has vast experience in Mergers & Acquisitions. Mr. Hajare is also an independent director on board of a few companies listed on the Indian Stock Exchanges. He has worked with Ernst & Young as Associate Director - Corporate Finance and Credit Lyonnais as Vice President prior to the association with InterGest.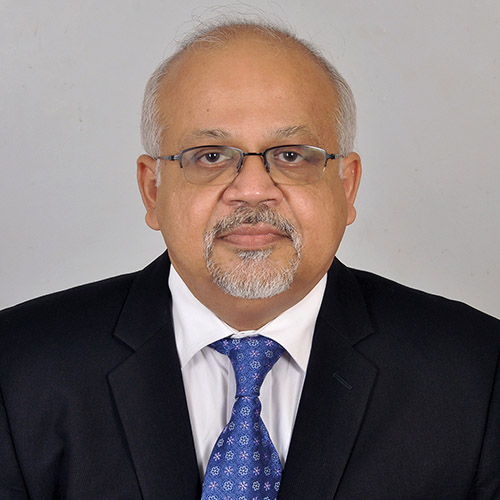 What are the advantages of setting up a company in India?
Setting up a company in India offers a number of advantages, including:
Growth potential: India is one of the fastest growing economies in the world and therefore offers great potential for companies operating in the country.

Cost savings: labour and operating costs in India are relatively low compared to other countries, which helps companies reduce their costs while maintaining the quality of their products or services.

Low taxes: India offers favourable tax conditions for companies including low tax rates and tax exemptions for certain industries. Since 1996, there has been an agreement on the avoidance of double taxation between Germany and India.

Trained personnel: India has a large number of professionals in various fields, including information technology, engineering and medicine.

Access to a large market: India has a population of over one billion people and therefore offers companies one of the largest markets in the world.

Policy support: The Indian government actively supports business development and offers various incentives and supports.

Favourable financing opportunities: India supports companies with financing, e.g. in the form of bank loans and venture capital financing.
What are the challenges of setting up a company in India?
Setting up a company in India brings with it challenges for foreign companies that need to be considered right from the start. These include, for example:
Bureaucracy: India has a complex and bureaucratic regulatory framework that can often make it difficult to do business.

Taxes and regulations: India has a complex tax system that is often difficult for foreign companies to understand. Compliance with tax and other regulations can be time-consuming and costly.

Workforce and human resource management: India has a large but also very heterogeneous population. It can be difficult to find and retain skilled workers. Human resource management is also often a challenge.

Cultural differences: India represents a rich and diverse culture with specific idiosyncrasies and regional differences. Business practices differ in many ways from those in Western countries.

Infrastructure and logistics: India's infrastructure is often inadequate and can affect business. Logistics is a challenge due to the size of the country and transport conditions.
It is important that companies looking to invest in India carefully research local regulations and cultural differences in advance of their planning and seek advice from experienced experts to successfully overcome these challenges. The best way to do this is to contact InterGest South Asia. We have been successfully supporting companies in planning and realising a business base in India since 2007.
What types of companies are there in India?
In India, there are several corporate forms for companies, including:
Private Limited Company (Pvt Ltd)

Public Limited Company (Ltd)

Sole Proprietorship

Partnership

Limited Liability Partnership (LLP)

LLC
These company forms offer different advantages and disadvantages depending on the needs and objectives of the business. It is important to understand the requirements and regulations for each type of company before choosing one. For example, some company forms require higher capitalisation or a certain number of shareholders, while others have less formal requirements.
The Indian Private Limited Company
The most common type of company in India is the Private Limited Company (Pvt Ltd). Its formation is relatively simple and requires less formal processes compared to other types of companies. The Private Limited Company must have at least two members at the time of incorporation who act as directors of the company. The founders may be individuals or corporate bodies resident in India or other countries. After incorporation, there are between two and fifteen directors, and there are certain requirements for residence of the directors and registration of personal details. One of the directors must be an Indian citizen. A Private Limited Company includes a limitation of liability for its shareholders. Shares for may not be publicly traded great flexibility in terms of property transfers. Thus, the company can own real estate in its own name, as well as other types of assets.
Requirements for setting up a company in India
There are various requirements and procedures for setting up a company in India, which may vary depending on the form of company. In general, however, the following steps are required:
Setting up a business account

Obtaining a Digital Signature Certificate (DSC)

Procurement of a Director Identification Number (DIN) for all directors of the Company

Registering the name of the company with the Registrar of Companies (ROC) and obtaining approval

Preparation of the Articles of Association of the Company and signature by all shareholders

Submission of forms and documents to the ROC

Obtaining the Corporate Identification Number (CIN)

Receipt of the entry in the commercial register
When planning to set up a company, contact InterGest South Asia in good time to ensure that all the necessary regulations and requirements are met. We offer the complete range of services for setting up your company or branch office in India - starting with export consultancy, tax and legal advice, right through to the day-to-day execution of fiduciary administrative work from bookkeeping to reporting and controlling.
InterGest South Asia – the right partner for setting up a company in India
If you want to start your business in India, then InterGest South Asia is the right place for you. We offer comprehensive support in setting up your business in India. Our experienced experts are well versed in local laws and regulations and will guide you every step of the way in setting up your business.
We advise you on choosing the appropriate legal form, help you apply for the necessary permits and ensure that your company is properly registered. We also support you in opening a bank account, applying for tax numbers and obtaining business licences.
Our service package includes, among others:
Establishment and fiduciary management of the branches,

Business accounting and management information system (MIS) design,

Cash and credit management including management of bank accounts,

Review of contracts and assistance in negotiations,

Staff recruitment and management,

VAT management.
Added to this is tailor-made support in many service areas from our company-external network. Contact InterGest South Asia before you want to conquer the Indian market. It is worth it!
Where to find Intergest India?
InterGest South Asia's office is located in Ghatkopar in the eastern part of Mumbai. This is conveniently located for movement to all parts of the city.